JB Hi-Fi reports record year, dividend jumps
Electronics retailer JB Hi-Fi has seen the pandemic-induced boost to its sales continue into July and August despite worsening lockdowns in Melbourne, as the company reported a record set of full-year earnings on Monday.
The retailing giant recorded a 11.6 per cent rise in sales, with total revenue coming in at $7.9 billion for the 2020 financial year compared to $7.1 billion in 2019.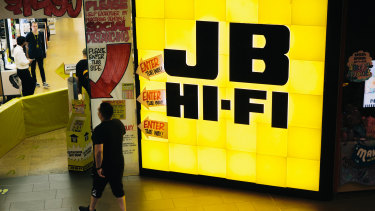 JB Hi-Fi has seen sales continue to surge through July and August.Credit:Roger Stonehouse
Statutory net profit after tax (NPAT) rose 21 per cent to $302.3 million, with both figures within the company's guidance which it raised and reinstated in June after pulling guidance earlier this year amid uncertainty about the pandemic.
Excluding a $24 million once-off impairment to JB Hi-Fi's struggling New Zealand operations, underlying NPAT rose 33.2 per cent to $332.7 million.
JB Hi-Fi has been one of the biggest benefactors of Australia's coronavirus lockdown, with thousands of Australians buying new monitors, laptops and keyboards to help work from home throughout March and April.
"This is a strong result in the most challenging of times," chief executive Richard Murray said.
"We are pleased to report strong sales and earnings for FY20 and importantly, we have provided our customers with the products they required as they spent more time working, learning and seeking entertainment at home, and kept our team members in jobs with an absolute focus on health and safety."
Sales at JB Hi-Fi Australia comprised $5.32 billion of the company's revenue, a 12.5 per cent rise on the prior year. Despite a higher cost environment thanks to the pandemic, JB Hi-Fi Australia managed to further reduce its famously low cost of doing business, down 0.8 per cent to 14.1 per cent.
Higher costs were "more than offset" by the elevated sales, the company said. Whitegoods seller The Good Guys also had a strong year, with sales up 11.2 per cent to $2.39 billion, with portable appliances, laundry, computer and televisions being the most popular products.
Online sales grew 50 per cent across the year to a total of $600 million, representing 7.5 per cent of JB Hi-Fi's total sales, with digital trade up 134 per cent in the fourth quarter alone.
Momentum has continued through July and August, the company said, with sales at JB Hi-Fi Australia rising a massive 42.1 per cent through July, and Good Guys sales up 40.4 per cent for the same month.
The company closed 67 stores in Melbourne due to the state's stage four lockdown, but sales through August has been strong regardless.
JB Hi-Fi also updated investors on its executive remuneration for the 2020 financial year, where the retailer said it would adjust its bonuses down due to the broader societal and economic impact of the coronavirus pandemic.
Recognising there is a "balance to be struck" between remuneration outcomes reflecting the company's strong performance, and the impact of COVID-19 on the broader trading environment, the company has chosen to benchmark its remuneration outcomes off its pre-COVID earnings guidance of $270 million.
This will result in executives receiving 90 per cent of their maximum bonuses, rather than 100 per cent. Mr Murray's total compensation for the year is $3.9 million, with over half of that comprised of bonus payments.
JB HI-Fi raised its final dividend up 33.1 per cent, with the full dividend for the 2020 financial year $1.89, payable on September 11. The company also announced a $1000 bonus for its 13,000 staff for working during the pandemic.
More to come
Source: Read Full Article