Supermarket restrictions on the way as retailers reel from 'devastating blow'
Victorians can expect to see buying limits on groceries reimplemented soon as early signs of panic buying begin to emerge across the state.
The Age understands major supermarket chains Woolworths and Coles are currently preparing to announce fresh buying restrictions as shoppers flock to supermarkets in the wake of Premier Daniel Andrews' announcement that the state would re-enter stage four lockdown on Friday afternoon.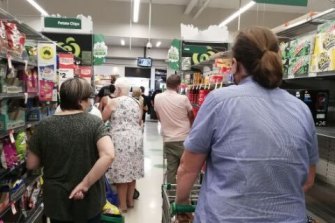 Queues in a Shepparton supermarket on Friday afternoon.Credit:Zach Hope
However, significant shortages on items are deemed unlikely as the companies' distribution centres are well-stocked, though concerns are emerging over the supply of goods for Valentine's Day on Sunday.
Fred Harrison, the chief executive of Victoria's largest independent supermarket chain Ritchies Supa IGA, said his stores were already beginning to fill up with shoppers.
"The complication is Valentine's Day. All those restaurants are going to be closed, so we've got a situation where we're going to be chaotic over the weekend," he said.
"A lot of people crack a bottle of champagne for Valentine's Day but they're not going to be able to do that, so they'll celebrate hard at home. Liquor sales are going to be enormous."
Mr Andrews said there was no need to panic buy toilet paper or other groceries as supermarkets will remain open during Victoria's five-day lockdown.
"You are allowed to go and shop, supplies are adequate. There is no need to be doing any of that," he said.
"You just put all manner of pressure on some of the hardest workers, some of the best Victorians, the people who are … driving the trucks from the distribution centre to the supermarket, the people who are stacking the shelves.
"Please. You can go shopping. That's allowed. For the stuff you need when you need it. And there are adequate supplies."
Daniel Andrews announcing the short, sharp lockdown on Friday.Credit:Getty
The head of Australia's retailing association labelled Victoria's snap five-day lockdown as a "devastating blow" for local retailers and hospitality venues which were gearing up for bumper sales on Valentine's Day.
"Sadly, there won't be much love in the air for Victorian businesses this Valentine's Day," Paul Zahra, the head of the Australian Retailers Association, said.
"Last-minute shopping will be curtailed and romantic dinner date plans have been dashed. That's a massive blow for restaurants who would have been fully booked for one of their busiest nights of the year."
Mr Zahra, a former chief executive of David Jones, said the "horrors" of 2020 had continued into the new year and urged states to form a consistent approach to dealing with new outbreaks.
"At the moment, businesses are at the mercy of the different approaches from the various premiers with very little planning time around what the latest restrictions mean," he said.
"The uncertainty and confusion around 'trigger points' has been a confidence killer and one of the key lessons out of this pandemic is to have a nationally consistent approach, with clear criteria, so business can at least operate with some sort of certainty."
More to come.
Sign up to our Coronavirus Update newsletter
Get our Coronavirus Update newsletter for the day's crucial developments at a glance, the numbers you need to know and what our readers are saying. Sign up to The Sydney Morning Herald's newsletter here and The Age's here.
Most Viewed in Business
Source: Read Full Article