Will Xiaomi disrupt India's e-scooter market?
Known for its phones and emerging from nowhere in the segment, it might take on the scooter Goliaths.
Surajeet Das Gupta reports.
India's leading mobile device player Xiaomi is looking at a possible entry into the electric scooter and cycle market, joining another disruptor, Ola Electric, which is invading the two-wheeler market dominated till now by familiar names.
A few days ago, Ola Electric announced it was investing Rs 2,400 crore (Rs 24 billion) and setting up a plan to make, in the first phase, 10 million electric scooters per annum by next year, challenging Bajaj, TVS, and Hero MotoCorp.
Now Xiaomi India might throw its spike into the ring.
It has emerged that the company put in an enabling provision in its filing to the registrar of companies some years ago to sell vehicles for transport, including ones based on electricity.
Although the company spokesman declined to comment, sources in the know say that Xiaomi has tested some of its electric scooters on the Indian roads already.
However, what is not clear is whether, once it has taken a final decision, Xiaomi itself will manufacture them or whether this will be outsourced to OEMs.
It has been reported in the Chinese media recently that Xiaomi might also take the plunge and enter the electric cars market in China, though the company said it had no such project right now.
Xiaomi already sells a range of electric scooters in China (they are also known as electric cycles in many markets) which includes the MI electric scooter Pro 2.
It has a battery which lasts for 45 kilometres, the smartphone functions as a dashboard and it can reach a speed of 25 kmph.
It also offers the MI electric scooter with a range of 18.6 miles and a speed of 15 miles per hour and the MI electric scooter essential with a maximum speed of 20 km an hour and range of 20 km after one charge.
Most of these products are categorised in the low-speed range of the electric scooter market and are priced affordably in China at below Rs 30,000 (converted from the yuan) and even lower.
In India, the bulk of the electric scooter market is in the lower speed, or under 25 km per hour, segment which accounts for 70 per cent of the 150,000 per annum market.
The city commuter market (with speeds of 45-48 kmph) accounts for another 26 per cent while the rest is the premium market where companies such as Ather Energy and Bajaj Auto dominate with scooters generally costing around Rs 1 lakh.
Analysts say that in the next few years, the focus will be on this city commuter market.
Ola Electric and Hero Electric are focusing on this area because it accounts for 85 per cent of ICE powered scooter sales which will now shift quickly to electric.
Though it is known for its value-for-money mobile devices, Xiaomi offers a range of other products which can be integrated with its mobile device: cameras, television sets, wireless earphones, smart LED bulbs, vacuum cleaners, air purifiers, and electric scooters.
In India, Xiaomi is known for its domination in the smart phone market.
Based on International Data Corporation figures, it has a market share of 27 per cent in the top slot, followed by Samsung which has a 17 per cent share in Q4 2020.
Feature Presentation: Ashish Narsale/Rediff.com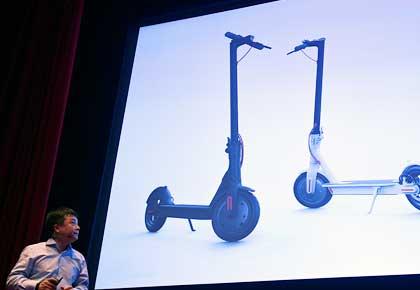 Source: Read Full Article