Richlisters get the jump on cult fitness craze Peloton ahead of Australian launch
For our free coronavirus pandemic coverage, learn more here.
Cult fitness technology brand Peloton is gearing up to finally launch in Australia this year but local richlisters hooked on the craze including billionaire Scott Farquhar have already snuck in bikes from overseas to get their spin class fix.
Atlassian billionaire Scott Farquhar has been a Peloton user for about six years but the Atlassian co-founder had to sneak his bike into Australia from the United States to use it locally. "When you buy the bike they set it up for you so I had to set up the bike, then unset the bike up, put it back in the box, ship it to Australia," he said.
Atlassian co-founder Scott Farquhar shipped a Peloton bike from the United States.Credit:Sam Mooy
Fellow rich lister Cathie Reid, co-founder of the Icon Group, Australia's largest cancer care provider, is another Peloton devotee clocking over 1400 rides after buying her bike in the United States. "I had mine delivered to my hotel and 'Fed Exed' to Australia," she said. "It was back in 2016, they knew full well that I was doing it and I had to sign a waiver that acknowledged there was no warranty if I took it out of the US."
With Peloton bikes priced from $2895 to $3695 along with a monthly subscription fee of $59 doing that is not for the faint hearted or anyone short of cash.
However, Ms Reid said Peloton, which also counts US President Joe Biden and movie star Leonardo DiCaprio amongst its users, is relatively cost-effective compared to a gym membership, and its sheer convenience for busy entrepreneurs is priceless.
"You go to a spin class in the local gym and it is the luck of the draw, there are some great instructors but there are some crappy ones as well," she said. "Here you have the best spin instructors in the world serving up the content and it is designed to be done in an entertaining and challenging way and it is so convenient."
Founded in New York in 2012 by former book shop executive John Foley, Peloton started out as a smart exercise bike with a screen attached that beamed live-streamed cycle classes to home users. It has expanded to an on-demand app across fitness activities including yoga and strength.
Peloton's debut on the Nasdaq in the United States in 2019 saw it perfectly placed to capture the zeitgeist during worldwide lockdowns where people were forced to exercise at home.
Peloton's valuation peaked at $US49 billion after the company recorded exponential growth through the pandemic with users swelling from 1 million to over 4 million.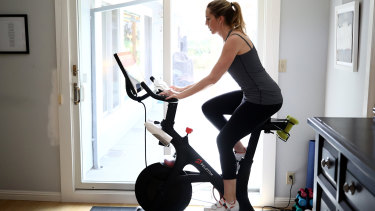 Peloton is getting ready to launch in Australia.Credit:Getty
The company announced plans to launch in Australia earlier this year. It has brought on Spotify's former managing director for Australia, Karen Lawson, to head its local operations and is opening a showroom in Sydney in Telsa's former outlet at Martin Place and in Melbourne.
Ms Lawson's background in the music industry is likely to prove useful with the fitness company settling litigation last year claiming more than $US300 million in damages over Peloton's alleged use of unlicensed songs.
Mr Farquhar speculated that issues with music licensing are what held back Peloton from launching in Australia earlier. Peloton declined to comment.
"They just didn't have local support or I presume the right digital rights management or paying the Australian labels for the songs played over here," Mr Farquhar said.
Peloton has also been hit by a recall of 125,000 of its recent treadmill product in the United States last month following reports linking the machines to the death of a three-year-old child with safety concerns knocking $US4 billion off Peloton's share price in a single day.
However, the company's latest financial results show its revenue more than doubled to $US1.26 billion in the third quarter beating estimates of $US1.1 billion.
Part of Peloton's revenue growth in the future is expected to come from expansion to new markets including Australia but whether it can go beyond being a fitness toy for the 1 per cent locally remains to be seen.
Most Viewed in Business
From our partners
Source: Read Full Article