European Central Bank changes tack to fight inflation – and climate change
The European Central Bank has decided to adjust the guideposts it uses to set monetary policy, giving it more room to deploy crisis measures even if inflation rises above its official target. The bank also said it would begin using its clout in bond markets to fight climate change.
After concluding an 18-month review of its strategy, the bank's Governing Council said on Thursday that it would no longer aim to keep inflation below, but close to, 2 per cent, its guiding principle since 2003. Rather, the bank would simply aim for 2 per cent and be ready to accept "a transitory period in which inflation is moderately above target."
"Two per cent is not a ceiling," Christine Lagarde, president of the European Central Bank, said during a news conference on Thursday.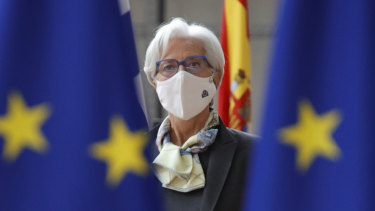 "Two per cent is not a ceiling": ECB President Christine Lagarde.Credit:AP
The seemingly minor change gives the bank space to keep pumping credit into the eurozone economy even if annual inflation rises above the target, as long as policymakers think the jump is temporary.
That scenario may soon materialise. Inflation in the eurozone has been hovering around 2 per cent in recent months and could rise higher as economies reopen and shortages of needed products such as semiconductors become more acute. According to the previous strategy, the central bank would be obligated to raise interest rates or take other measures to slow the economy, even if the crisis was not over.
By law, controlling prices in the 19 countries of the eurozone is the central bank's main priority, so any adjustment to its approach to inflation has broad implications for the interest rates that businesses and consumers pay on loans, and for employment and economic growth.
The bank also said it would take climate change into account when it buys corporate bonds as part of its stimulus measures. The bond purchases, made with newly created money, are one of the bank's main tools to stimulate borrowing and economic growth. But in the future, the European Central Bank will favour companies that have made sincere efforts to reduce the amount of carbon dioxide they produce.
In practice, the central bank has already provided ample evidence it was willing to bend its own rules to fight the pandemic, or the debt crisis that nearly destroyed the euro a decade ago.
"The more modern and clearer strategy will make it easier for the ECB to communicate with markets and the public," Holger Schmieding, chief economist at Berenberg Bank, said in a note to clients. "It enshrines the flexibility which the ECB had granted itself anyway."
The European Central Bank's new approach is sure to generate criticism from places such as Germany, where fear of inflation runs deep. Jens Weidmann, a member of the Governing Council and president of Bundesbank, which is Germany's central bank, has called for the European Central Bank to begin dialling back its stimulus to ensure that inflation does not get out of control. He has also said that climate change was not a matter for central banks. But Lagarde said members approved the new strategy unanimously.
The Governing Council on Thursday defended its decision to make climate change a task for central banks, saying it was relevant to "inflation, output, employment, interest rates, investment and productivity; financial stability; and the transmission of monetary policy."
The New York Times
The Business Briefing newsletter delivers major stories, exclusive coverage and expert opinion. Sign up to get it every weekday morning.
Most Viewed in Business
From our partners
Source: Read Full Article