JB Hi-Fi reports bumper result but warns lockdowns damaging sales
For our free coronavirus pandemic coverage, learn more here.
Electronics and homegoods retailer JB Hi-Fi has warned sales have suffered over the first month of the new financial year thanks to lockdowns in Sydney and Melbourne, marking a slowdown after a bumper year for sales and profit.
In a trading update to investors on Tuesday, the retailer said its sales from April to the end of June had continued to be strong but were still unable to match the exceptional sales growth reported last year through the advent of COVID-19.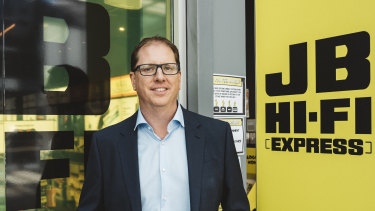 Outgoing JB Hi-Fi group CEO Richard Murray said the bumper result was due to strong margins and good people.Credit:Tash Sorensen
Revenue at the company's Australian division fell 7.8 per cent on a yearly basis, but rose 21.2 per cent when compared to COVID-free 2019. Sales at The Good Guys also dropped 1.5 per cent on last year but were up a similar 28.3 per cent on 2019.
JB Hi-Fi also gave shareholders an early look at its full-year results, releasing a set of preliminary, unaudited figures for the 2021 financial year showing huge jumps in sales and profits.
Revenue for the retailer grew 12.6 per cent for the year to $8.9 billion, and net profit after tax soared 67.4 per cent to $506.1 million. Online sales for the retailer also boomed 78 per cent, making up $1.1 billion in revenue, or 11.9 per cent of total sales.
JB Hi-Fi has been one of the biggest beneficiaries of the pandemic, with stimulus checks and working from home needs driving sales across the company's range of home appliances, laptops and computer monitors.
These results are above analyst expectations for the business, with outgoing chief executive Richard Murray attributing them to strong cost management and improvements in gross margins.
"We are pleased to report record sales and earnings for FY21. Our continued focus on the customer, and investments in our online business and our supply chain, have enabled us to seamlessly meet our customers' increased demand both instore and online," he said.
"I would like to thank our over 13,000 team members who have continued to do an incredible job and worked tirelessly throughout this period. As I have said before, our team members are our number one asset and our most important competitive advantage; their dedication and deep product knowledge continue to delight our customers every day."
However, the buoyant update came with a warning for investors, with JB noting its July sales were seeing "some disruption and variability" due to various state-based COVID restrictions, most notably the lockdowns in Sydney and Melbourne due to the difficult-to-control Delta variant of the virus.
Similarly, ASX-listed jewellery retailer Lovisa also warned its investors on Tuesday it had seen disruptions due to store closures, with 36 of its stores in Victoria shut and 32 in Sydney closed.
Shaun Weick, analyst at investment firm Wilson Asset Management said he was cautious on the retail sector in the short term due to the lengthening lockdowns, noting the forced closures were likely to compound the already weak sales growth companies were experiencing.
"The majority of retailers, especially those ones that were COVID beneficiaries, were likely to report mid-to-high single-digit negative sales growth through this period on strong comparatives," he said. "This has been further compounded with the latest round of lockdowns."
JB Hi-Fi will provide more updates on its current trading at its full-year results on August 16.
The Market Recap newsletter is a wrap of the day's trading. Get it each weekday afternoon.
Most Viewed in Business
From our partners
Source: Read Full Article