NBN Co boss defends bonuses as revenue ticks over $4.6 billion
NBN Co boss Stephen Rue has defended the company's decision to pay executives millions of dollars in bonuses, and rejected claims from federal Labor that the payouts were tied to low ball targets.
With the opposition communications spokeswoman Michelle Rowland, pushing for the Australian National Audit Office (ANAO) to examine the almost $78 million in bonuses paid to NBN Co executives last year, Mr Rue said that NBN Co's remuneration policy was robust enough to withstand any potential scrutiny from the Auditor-General.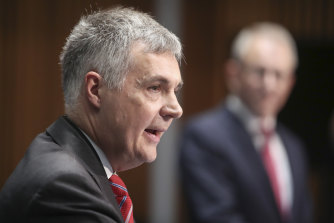 NBN Co CEO Stephen Rue said he was confident households would spend more for higher speeds.Credit:Alex Ellinghausen
"We (the NBN co board) lay out a remuneration report every year, and when you read that you will see that the governance of the board in place is very strong," he told The Age and The Sydney Morning Herald.
He also played down the concerns raised with the Auditor-General by Ms Rowland about the underlying revenue targets set by NBN Co, on which the bonuses are based on.
According to the letter send in July by Ms Rowland, a thorough examination was required of whether "taxpayer-funded bonuses are also being linked to artificially low targets".
However, Mr Rue said the nature of the NBN project entailed a level of long-term forecasting.
"We have in the past laid out long-term forecasts which is unusual for companies to do and long-term forecasts change because circumstances change."
The company in charge of building and operating the national broadband network on Tuesday posted a 21 per cent jump in total revenue to $4.6 billion for fiscal 2021.
Earnings before interest, tax, depreciation and amortisation (EBITDA) for the full-year came in at $1.35 billion, a $2 billion turnaround from a loss in fiscal 2020, as NBN Co's customer migration payments to Telstra and Optus continue to shrink.
NBN Co pays Telstra and Optus for every customer that moves from their respective networks and gets connected to the NBN. As of June 30, 2020, 8.2 million residential and business premises are connected to the NBN.
However, the jump in the number of homes connecting to the NBN hasn't translated to higher average revenue per user (ARPU) for NBN Co. That figure remains stuck at $45 per user, well short of the $49 target required to avoid a write-down and keep the project off the government's books.
Mr Rue said ARPU for the year was weighed down by the wholesale price discounts doled out by NBN Co to telcos reselling NBN services during the pandemic.
The government-owned enterprise temporarily cut its wholesale pricing to help telcos buy enough capacity to meet the higher broadband demands from homes and businesses during the lockdowns.
"In this (fiscal) year we provided a lot of support to the industry and to consumers…so that has to be recognised."
Mr Rue added there were no plans to reinstate the discounts despite parts of Australia still under lockdowns.
"There is no intention of reintroducing the CVC (bandwidth) boost, that was appropriate when we had national lockdowns that occurred suddenly and unexpectedly…what we are now seeing is lockdowns happening in some cities and some states, not nationwide."
Mr Rue also said that NBN Co would continue to raise more money from the market to repay the $19.5 billion loan from the federal government, due in June 2024, and to upgrade the network.
"We have raised $14 billion in debt so far and of that we have paid just over $6 billion back to the government, and we will continue to look into various bank and debt markets in the coming months and years."
According to NBN Co's corporate plan, the company is aiming to raise $27.5 billion of external debt.
The Business Briefing newsletter delivers major stories, exclusive coverage and expert opinion. Sign up to get it every weekday morning.
Most Viewed in Business
From our partners
Source: Read Full Article