Beer giant Lion swallows Stone and Wood brewer Fermentum in major deal
Beverage behemoth Lion has continued to grow its stable of Australian craft brewing businesses, acquiring Stone & Wood maker Fermentum in what is being described one of the country's largest-ever craft beer buy-outs.
Announced on Thursday, the deal will see Lion acquire 100 per cent of the Byron Bay-founded brewer, which was started in 2008 by Jamie Cook, Brad Rogers and Ross Jurisich and has since grown to claim 1 per cent of Australia's $4 billion beer market.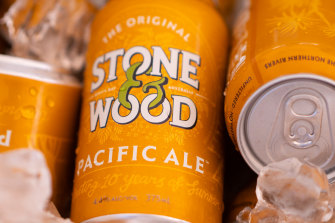 Fermentum owns a string of craft beer brands, including Stone & Wood and Two Birds.Credit:
The company's main brand is its Stone & Wood pacific ale, but it also produces a number of other Stone & Wood-branded drops alongside recently acquired Melbourne brewer Two Birds, seltzer brand Sunly, and Fixation Brewing, among others.
Lion is one of Australia's largest beer companies and a subsidiary of Japanese giant Kirin. It brews mainstream brands such as XXXX and Tooheys and has an extensive stable of other craft beers including Little Creatures, James Squire, and New Zealand brewer Panhead.
Lion Australia managing director James Brindley said the company would continue to be a "unique player" in Australia's drinks industry under Lion's stewardship.
"We have huge respect for what Jamie Cook, Brad Rogers, Ross Jurisich and the team have created; great beer, wonderful brands, spiritual homes in their breweries and tap rooms, an inclusive culture and a commitment to the community," he said.
"We want to grow what they've started, giving their people and beers even more reach across the country."
The value of the acquisition was not disclosed, however, The Age and The Sydney Morning Herald understand it is one of the largest-ever craft beer acquisitions in the country. Fermentum had reportedly been considering an IPO or external investment, with reports from June suggesting the business had been looking for an investment of as much as $150 million.
Co-founder Mr Cook said the business had undertaken an extensive strategic review looking at options for future growth and went with Lion due to the company's commitment to expanding the brewery.
"We only looked for a custodian who would be committed to building the brewery and to support our work in the community," he said.
"Not only did Lion welcome these ideas with enthusiasm, they demonstrated they have similar values and a focus on environmental and social governance aligned to our 'force for good' approach."
Lion will continue with the company's plans to build a new brewery in Murwillumbah in NSW's Northern Rivers region, an expansion set to cost around $50 million.
In the 2020 financial year, Fermentum reported revenues of $62 million and profit of $5.1 million, a figure down on the year prior due to COVID-19's impact on pubs and hotels through the start of the pandemic.
This figure was aided by $1.5 million in JobKeeper claimed for the 12 months to the end of June, alongside $136,000 in rental relief. The deal is subject to regulatory approvals.
The Business Briefing newsletter delivers major stories, exclusive coverage and expert opinion. Sign up to get it every weekday morning.
Most Viewed in Business
From our partners
Source: Read Full Article