Xero invests in apps, AI and acquisitions as global push continues
Cloud accounting platform Xero is focusing on machine learning and the app economy to drive growth and value among its small business customers, as it continues its long-running streak of acquisitions and pushes further into the United States.
On Thursday the Auckland-based, ASX-listed software firm announced record half-yearly revenue of $NZ505.7 million ($487.3 million), and a 560,000 year-on-year increase in subscribers to exceed 3 million in total, the bulk of which are in Australia. Average revenue per user was up 7 per cent.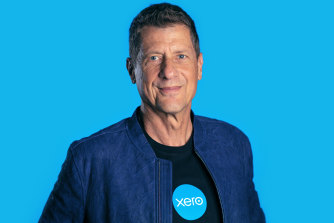 Xero CEO Steve Vamos said the company's app store is a key strategic element of its platform growth.Credit:
Despite the rise in revenue, the company reported an overall loss of $NZ5.9 million for the half, which it attributed to an increase in investment spending to higher than pre-COVID levels.
Taking a leaf out of the big tech playbook, the company in August launched an App Store of small business tools with more than 1000 offerings from Xero and its partners, from which it takes a 15 per cent cut. And with many of its offerings, including the new Analytics Plus forecast and insights tool, Xero is increasingly cross-referencing data from multiple products using AI.
Chief executive Steve Vamos said the initiatives were key to adding value for small businesses that increased the number of Xero products and tools they used.
"As a result of being connected to the Xero platform, not only do they have a more seamless environment around things that can be disconnected and disparate, but what happens is that their data on the Xero platform becomes a great asset," he said.
"Now you can move to creating new applications that are predictive, proactive, making suggestions, seeing trends, making comparisons and recommendations. Which is really about the power of data, when used properly and used with respect."
Mr Vamos said the idea was that eventually Xero would be able to run the back office near-autonomously while small business owners got on with doing the parts of the job they enjoyed.
"Why wouldn't I, as a small business, just ask Xero what are the three things I should be worried about today?'," he said.
"It might say call a customer who hasn't ordered for a while. Look at a different supplier for a product you seem to be paying more for than others. Be careful, there's a payroll compliance issue coming up, talk to your accountant."
The increasing move towards services and apps was especially important in the local market as businesses in Australia and New Zealand had some of the highest cloud adoption rates in the world.
"There's great potential to get our customers doing more, using more applications on the platform. And that's obviously an increasing focus in Australia and New Zealand as we go forward, but it also coincides with growing our business around the world."
Globally adoption is closer to 20 per cent, and even lower in North America. The potential for adoption, along with increasing government initiatives to digitise tax, presented a major opportunity. Along with its results, Xero on Thursday announced the latest in a string of acquisitions designed to help its push into the United States; an American inventory management provider called LOCATE which the company purchased for $US19 million ($26 million).
"There's a pretty clear formula for us in the Commonwealth markets, where you have similar government regulation and structures, you have similar financial services sectors and similar economies to some extent," Mr Vamos said.
"The US is different because you are dealing with multiple states. You have to be really smart about how you approach it. For us, it is a combination of building, partnering and acquiring."
On Thursday Xero announced it had increased US subscribers 23 per cent year-on-year to 308,000, and would be hosting a conference in New Orleans next year to help expand its partnerships.
The Market Recap newsletter is a wrap of the day's trading. Get it each weekday afternoon.
Most Viewed in Business
From our partners
Source: Read Full Article