Banks holding out on raising interest rates for millions of savers
While repeated interest rate rises are finally bearing fruit for long-suffering savers, not all are benefiting, with some banks being selective in which of their savings account depositors to reward with higher rates.
That means savers who are complacent can easily miss out on a better rate for their hard-earned cash, including situations where better-paying accounts are on offer with the same bank.
Only slightly more than a dozen banks from among the 90 on RateCity's database have said whether they are passing on last week's increase in the cash rate by the Reserve Bank of Australia of 0.25 percentage points to savers.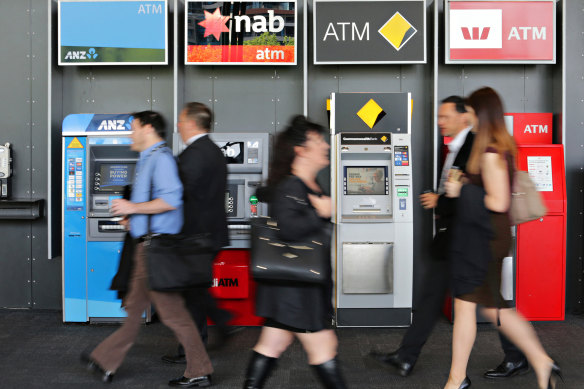 Interest rates on savers accounts are mostly rising, but it pays to check as you may still be in a low-paying account.Credit:Paul Rovere
There are two types of savings accounts. Online accounts are those that pay the maximum rate for a limited time, usually three to five months, after which time the rate falls to a lower ongoing rate, whereas bonus accounts pay the maximum rate provided that certain conditions are met; otherwise the rate reverts to a lower base rate.
Westpac lifted its savings rates by up to 0.9 per cent for existing customers, while Commonwealth Bank increased rates across its key savings accounts for existing customers by between 0.25 to 0.3 per cent.
Westpac's Life bonus saver pays 3.5 per cent ongoing, provided that conditions, such as increasing the balance each month, are met. Its eSaver account also pays 3.5 per cent, but only for five months, after which it falls to 0.85 per cent.
RateCity figures show Commonwealth Bank's NetBank Saver pays 3.5 per cent, but only for 5 months after which it pays a rate of 1.35 per cent.
NAB will increase what it pays on its Reward Saver to 2.75 per cent, with an unchanged rate of 0.1 per cent if conditions are not met.
The bank will increase the iSaver interest rate to 3.5 per cent, which it pays for 4 months, after which it pays an unchanged ongoing rate of 1.1 per cent.
ANZ will soon increase the rate on its new Plus Save account to 3.5 per cent. However, the bank's Progress Saver account continues to pay 2 per cent if conditions are met and its Online Saver account continues to pay 1.9 per cent for 3 months and then 0.6 per cent.
There are more than two million savers in the two accounts combined.
"Complacent ANZ customers are missing out – if they switched to the Plus Save account they would earn much more," Sally Tindall, research director at RateCity, says.
Alison Banney, money expert at Finder, says if you have not switched to a more competitive rate, now is the time to find a better deal. "Check what interest rate you are getting on your savings and if it doesn't start with at least a 3, it's time to switch," she says.
Banney says the best rates for savings accounts continue to be found outside the big banks.
She says ING's Savings Maximiser pays 4.3 per cent, the highest paying on Finder's database, but has a number of conditions. The Macquarie Savings Account pays 4.25 per cent for the first four months. Other high-paying savings accounts include those from Bank of Queensland and RaboBank.
Steve Mickenbecker, the group executive of financial services at Canstar, says those with variable mortgages should not overlook offset accounts as they are a "very effective" place to park savings if their mortgage comes with one.
The balance in the offset account is deducted from the outstanding loan amount against which interest is applied. The "effective" interest rate on the money in the offset account is the mortgage rate, which is higher than what can be earned in savings accounts.
Money in the offset account can be withdrawn at any time. Some people have their salaries paid into their offset account to maximise the interest savings, Mickenbecker says.
Another advantage is that the interest on a savings account is liable for income tax, whereas no interest is paid when using the offset account strategy. Not all variable rate mortgages come with offset accounts and some offset less than 100 per cent of the mortgage, Mickenbecker says.
Advice given in this article is general in nature and is not intended to influence readers' decisions about investing or financial products. They should always seek their own professional advice that takes into account their own personal circumstances before making any financial decisions.
---
How to make, save and invest money
Diversifying your investment portfolio, or just starting one, requires the first step. Jess Irvine and Dominic Powell show you how to set your goals and actually buy shares in the It All Adds Up podcast. IRL.
When you separate from a partner, emotions – and finances – almost always suffer. How do you protect your finances, and maybe even grow them, when you decide to go it alone?
Can you really live without a credit card? Alex Kingsmill has never used one. This is how – and why – she lives credit card debt-free.
Most Viewed in Money
From our partners
Source: Read Full Article