"To open the door you need $1 million": inside the Australian Open sponsorship game
Crowds are booming at the Australian Open, but Blair James, the millionaire co-founder of fast-growing local skincare brand Bondi Sands, has a problem.
His company prepared 500,000 samples of the brand's sunscreen to hand to visitors. But with record crowds, Bondi Sands has already given away 100,000 little blue sample packs in the first two days, and the Open lasts for 14.
James explains this as former number one, US Open and Wimbledon champion (and Bondi Sands ambassador) Lleyton Hewitt patiently hits tennis balls with invited social media influencers at a Bondi Sands event (activation in marketing-speak) at the Tennis Club, one of the Open's many hospitality zones. He may be under prepared for large crowds, but that's hardly a serious problem for James, whose marketing and sample spend at the tournament is $2 million.
The Australian Open is a haven for brands hoping to build credibility and sell their products.Credit:Fiona Hamilton/Tennis Australia
"For a sun care brand it was a very simple decision," James says.
"People spend the whole day here in the glaring sun. They are looking for sunscreen. It is not just about advertising, it is about that opportunity to get product into people's hands. That's how you get cut through."
Executives with a product to flog regard the Australian Open as the "jewel in the crown" of the tennis tour. Unlike other grand slams, the location is closer to city hotels. There are more food outlets, bars, restaurants, coffee carts, hospitality zones, kids playgrounds. More opportunities to sell, sell, sell. And it doesn't matter if you are a tennis fan – plenty of families come to Melbourne Park just to enjoy the day.
James says he doesn't closely follow the balance sheet in terms of return on investment — he looks at something more valuable. "Credibility is the first thing we looked at," he says. "We are a new Australian sun care brand. There isn't another event in Australia that gives you that credibility."
If credibility is the aim — brands must spend a lot to achieve it.
Lleyton Hewitt and Bondi Sands chief executive Blair James at the Bondi Sands event at the Australian Open.Credit:Tracey Nearmy/Tennis Australia
Before the COVID-19 pandemic, the annual TV and media rights for the Australian Open were about $130 million, according to unconfirmed estimates from industry sources. Sponsorship accounted for about $110 million. Tickets and corporate packages including seats and hospitality about $120 million.
It is too early to say how the Australian Open has recovered, but there are early signs of record crowds. First launch ticket sales were a record. Last week's extreme heat, rain and steady procession and the withdrawals of big stars — Kygrios and Nadal and Alcaraz due to injury and Osaka due to her pregnancy — could have a knock-on effect. Some sessions are being discounted, unheard of previously.
Still, that has not affected how much brands are willing to pay. "To open the door and have a conversation it is $1 million per annum. At least," said one sponsorship executive.
Naming rights sponsor KIA increased its payments by $2 million or $3 million a year to about $20.5 million a year, industry sources said, citing unconfirmed estimates.
The most lucrative sponsorship deal in Australian sport — bigger even than Toyota's AFL deal — was with a brand most Australians have never heard of. The Chinese spirit Guojiao (or National Cellar) 1573 made by distiller Luzhou Laojiao, one of China's largest producers of the country's signature white spirit, baijiu. It even has a court named in its honour, the 1573 Arena, the old show court No. 2.
Pre-pandemic it was worth about $US14 million a year ($19.9 million), but COVID-19 slashed the sponsorship to about $US8 million.
Sources familiar with the other commercial agreements say Emirates and Rolex are paying about $6 million a year each. ANZ, which used to spend this kind of money, planned to walk away entirely, but signed a new deal with a reduced commitment.
Ralph Lauren, the official outfitter, is estimated to pay about $6 million to $7 million, while Marriott and CHUBB are in the range of $3 million a year. Piper-Heidsieck and Bondi Sands between $1 million and $2 million cash and a lot of product.
Brands that have gone include winemaker Jacobs Creek and personal care brand Garnier, which had deals for as little as $500,000 per annum. "Their eyes would water at what they would have to pay today," an executive said.
Inside the arenas, the back of the court is the premium sponsorship opportunity, and the most expensive. "It is in the TV frame for more than 82 per cent of the time," one media executive explains.
Dean Norbiato, general manager of marketing at KIA, says the Open was a launchpad.
Rafael Nadal launching KIA's latest car at the 2023 Australian Open.Credit:Justin McManus
KIA invited 20 automotive journalists to the launch of EV6 GT on-site at the Australian Open, an event that was led by Nadal, who also launched the AO fleet in Federation Square. Previously it offered complimentary Uber rides to the venue in its Seltos model. And its TV ads during tennis matches and on-court signage are impossible to ignore. A 2021 Gemba Effectiveness Study commissioned by broadcaster Nine (which owns this masthead), said KIA's sponsorship that year improved consideration by 4 per cent and perception of quality and innovation by 11 per cent.
Norbiato says the ability to get customers into cars on-site has had the biggest impact.
"We find that once people get bums in seats in our cars … you have a significantly improved chance to move into consideration," he said.
One of the other key benefits for KIA is the demographic of the audience. Despite thousands entering Melbourne Park and millions watching online, Norbiato says the split in gender is "a very even 50/50". "It does give us this unique opportunity to talk to a female audience on a large scale for an extended period of time," he explains.
The international appeal of the grand slam fits well with other global brands, such as Emirates and Marriott Bonvoy. "Four-fifths of your audience is offshore," the media executive said.
Last week, 10 members of Marriott Bonvoy, the loyalty program of Marriott International, the largest hotel company in the world, came from as far as Chicago and Los Angeles for a coaching clinic on Court 3 with Mark Philippoussis, winner of 11 career titles.
Sam Stosur at the Emirates dinner last week with the Australian Open trophies.
"AO is specificallythe number-one sporting event in Australia and it is a global platform," says Florencia Aimo, director of marketing for Australia, New Zealand and Pacific Islands at Marriott International.
"The goal is to enhance the fun and enjoyment of the sport which we call Marriott Bonvoy moments. Our members can log in and use the points they earn from the stays around the world to bid on these experiences."
Marriott Bonvoy also has its own corporate hospitality restaurant beside the Rod Laver and Margaret Court arenas as well as seats in the arenas. Last year it had 600 corporate hospitality seats for clients, including meeting planners and corporate travel agents, this year 800.
Typically, the hotel penetration rate of Marriott Bonvoy members in Marriott hotels is 50 per cent of room nights. But during the Open last year the loyalty program penetration rate was 70 per cent.
"We are on the right track. We are partners in an event that really drives those passionate travellers. That marketing cycle is really working," Aimo says.
Luxury airline Emirates launched its ninth year of its Open sponsorship with a lavish dinner for media where attendees could inspect the tournament's trophies and pose for photos with former number-one seed Sam Stosur.
The carrier spends $430 million on sponsorship every year and not a dollar is wasted, said global head of corporate communications Boutros Boutros.
"There's no such sponsorship as a bad sponsorship. We've actually increased the sponsorship budget by 10 per cent this year, and hopefully it will keep increasing," he says.
Including the Australian Open, Emirates sponsors three of the four major grand slams, excluding Wimbledon.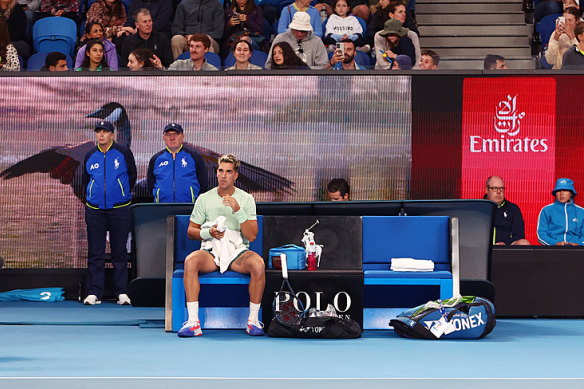 The Australian Open courts are filled with signage from its biggest sponsors.Credit:Aaron Francis
"Our strategy is to focus on certain sports which give us global coverage. Tennis proved to be one of the best sports for return of investment in terms of popularity, global spread and recognition," Boutrous said.
Although it's been a tough three years for the aviation industry, Emirates has held on to the bulk of its many sport sponsorships. It has walked away from Australia's Melbourne Cup, with Boutrous arguing horseracing is too quick to provide the same investment returns as more lengthy sports including golf, football and tennis.
"The way tennis is played means your branding will always be in the face of the public, not like some sports where it's like part of the distance where no one notices your brand."
The Morning Edition newsletter is our guide to the day's most important and interesting stories, analysis and insights. Sign up here.
Most Viewed in Business
From our partners
Source: Read Full Article