GM, Ford switch off India ops but unable to exit
Both are finding it difficult to sell one each of their plants — Chennai Maraimalai Nagar (Ford) and Talegaon near Pune (GM) — and are finding the road blocked by employee severance snarl-ups, report Sohini Das and Shine Jacob.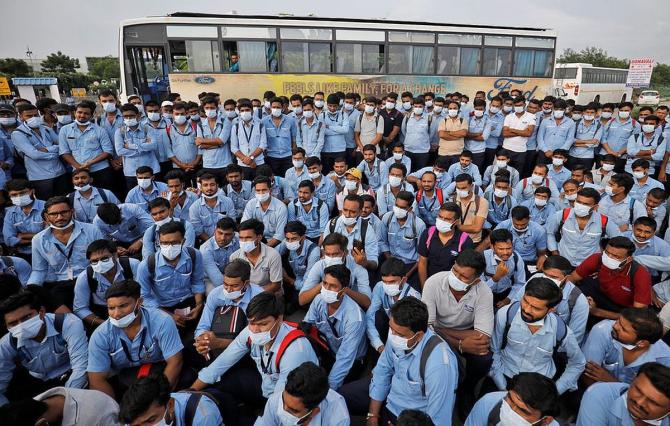 Over the past five years, the two fabled Motown majors General Motors (in 2017) and Ford (in 2021) have announced that they would be driving out of India for lack of profit. But both are having trouble finding an exit route, and their problems offer clues to the kind of trouble large companies seeking exit options may face in India.
Both are finding it difficult to sell one each of their plants — Chennai Maraimalai Nagar (Ford) and Talegaon near Pune (GM) — and are finding the road blocked by employee severance snarl-ups.
For Ford, this will mark the third exit from India. The first was in 1953, after import restrictions were imposed, and the second in 1995, when a joint venture with Mahindra & Mahindra failed.
Sources indicate that the India subsidiary is close to finding a buyer soon for its Chennai plant after it managed to sell its Sanand unit to Tata Motors for Rs 725 crore in December last year.
Several potential buyers, including MG Motors, Ola, Mahindra and Mahindra (M&M), have visited the 25-year old site spread over 350 acres, which has a capacity to make 200,000 vehicles and 340,000 engines a year.
But there are lingering employee problems to sort out first. After it announced its exit in September 2021, Ford had set in motion a generous severance scheme for its 2,000 employees — pay equivalent to 140 days of gross wages for every completed year plus a one-time lump sum of Rs 150,000 in the final settlement.
This roughly works out to Rs 34.5 lakh to a maximum of Rs 86.5 lakh per employee, or an average of Rs 44.8 lakh per employee.
But around 60 people, accounting for 2 per cent of the workforce, have not accepted the final settlement, demanding jobs instead.
"The union agreement is done and executed with all sincerity. If 60-odd people try to create imaginary situations, it is not a dispute," a Ford official said.
The company said it has deposited the entire amount in their banks but the plant remains to be sold. The closure of the Chennai plant is estimated to have affected around 40,000 livelihoods in the vicinity and employees have struggled to find jobs.
For example, 36-year-old Stephen worked at Ford's Chennai factory for nearly 15 years and earned around Rs 72,000 a month. Now his age, his high salary at Ford and the history of unionism are all adding to his challenges.
Ford's Sanand employees, however, have been absorbed by Tata Motors, whose plant there shares a wall with Ford's factory just off the Sanand-Viramgam highway. Tata Passenger Electric Mobility, a subsidiary of Tata Motors completed the acquisition this month.
'With existing capacities near saturation, this acquisition will unlock an additional state-of-the-art manufacturing capacity of 300,000 units per annum, which is scalable to 420,000 units per annum,' a press release stated.
General Motors is exiting India for the second time. It first left in 1954 (again, on import restrictions) and re-entered in 1995, initially in a tie-up with Hindustan Motors.
As with Ford, employee unrest is emerging as a major roadblock, this time at the 300-acre Talegaon plant, around 45 km from Pune.
A 1,000-odd unionised workforce at Talegaon and the GM management are currently locked in a legal battle with the employees demanding employment with the new owners of the plant, and full wages in the interim. But potential buyers are unwilling to take on the cost of GM's retrenched labour force at the plant.
GM stopped vehicle production at Talegaon plant in 2020. Tata Motors, M&M and Hyundai have visited the site, according to reports.
"GM's Talegaon unit is suitable for making small cars, and would need some investments to ready it to make larger SUVs. Therefore, buyers would not be keen to take on a unionised labour force," said an industry observer.
China's Great Wall Motors had signed a term-sheet to acquire the plant, which lapsed in June last year, on account of geopolitical problems.
Following the confrontation between Indian and Chinese soldiers in Ladakh in 2020, the Union government announced stricture scrutiny of Chinese investments. The proposal was stuck for two years before GWM dropped its plans for the India market.
The company's Halol plant in Gujarat was sold to MG Motor India, a unit of China's SAIC Motor, but not before it faced some employee trouble there too.
In May 2017, when GM handed over the plant to China's SAIC, it did so without the 600-odd workers who had not accepted the severance pay. At that time, it had transferred around 300 workers to the Talegaon unit.
So why are the US auto giants exiting the country given its steady rise up the global ranks as an automobile market? That's because they struggled from the start in spotting market trends. They entered the market with mid-sizers when India was primarily a small car market, where Maruti, Hyundai and Tata Motors gained early-mover advantages.
Though GM's Chevrolet Spark and Beat, and Ford's Figo were popular models, neither auto-maker spotted the shifting trend in the market towards larger utility vehicles.
"As the market evolved to consumers opening their purse strings to buy more expensive cars loaded with features — such as those from MG and Kia — Ford and GM both failed to evolve," said an automotive analyst.
Ford, however, appears to have kept the doors open for a re-entry. The sweet deal it offered its dealerships is a case in point.
As a former dealer explained, "When the company announced its exit, the 265 dealers in India had around 7,000-8,000 cars in inventory. The company helped the dealers financially to liquidate the stocks; it produced enough spare parts to last for the next 10-years and stored them at warehouses that Ford pays for."
Ford, he added, calculated (based on last year's sales) the loss each dealer would make when the dealership closed and paid money for the next five years to compensate for their losses. A component of depreciation was also built into this payment.
As for service operations, the US carmaker calculated the drop in service load for the coming years, and compensated the dealers for that too.
"It has ensured that the standards and the experience are not diluted for the customer," said the dealership owner who runs dealerships for another 16 automotive brands.
That way, he added, the company has kept the door open for a re-entry, and all its erstwhile dealers would be more than happy to come on-board if and when that happens.
Ford India loss after tax at Rs 4,229 crore in fiscal 2021-22; losses widened from Rs 188 crore in 2020-21

Tata Motors acquired Ford's Sanand plant for Rs 725 cr
GM India's sales had slumped to 26,000 units in FY17 from 110,000 in FY12. The company's Halol plant in Gujarat was sold to MG Motor India, a unit of China's SAIC Motor
Source: Read Full Article