MSMEs caught between a rock and a hard place
Politicians and Twitter warriors around the globe have a new buzzword among them: Net zero.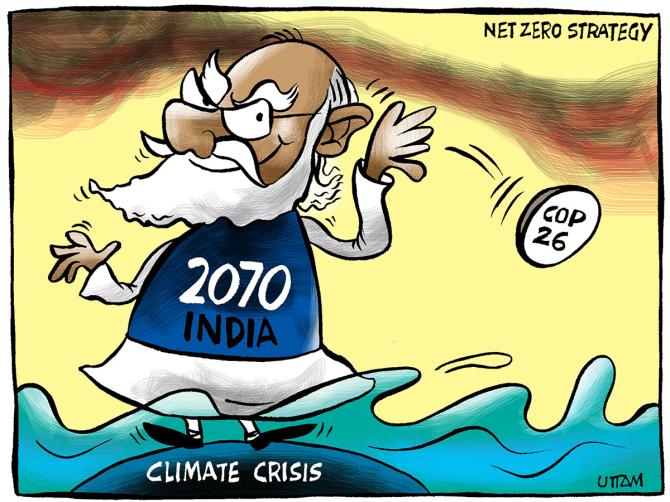 Everyone appears to be keen to state their commitment to net zero, with India providing an outlay of Rs 35,000 crore to achieve energy transition and net-zero objectives in its Budget for FY24, even as the latest and final report by the United Nations' Intergovernmental Panel on Climate Change (IPCC) warned that current efforts are not enough to curb global warming.
A number of small factory owners and businesses, however, have pointed out that the transition to net-zero emissions will cost them hugely.
According to a media report, India has over 60 million microbusinesses and small and medium-sized businesses (SMEs) that employ over 110 million people.
Some of them are still recovering from the debilitating effects of the Covid pandemic, and with limited resources available for them to make the green switch, they find themselves left in the lurch.
According to a McKinsey report published in 2022, total spending by governments and individuals would need to rise by $3.5 trillion a year in a bid to achieve net zero emissions by 2050 — an increase of 60 per cent from the current level of investment.
The report states that 185 million jobs will be lost due to the transition, though 200 million jobs may also be created.
"Access to green technology and its financing remains a challenge.
"Cost of finance determines the breakeven period: Cheaper the finance, the shorter the breakeven period, reducing the risk of technological upgrade.
"A massive technological upgrade is needed for India to bridge the gap with our peers," says Anil Bhardwaj, secretary-general of the Federation of Indian Micro Small & Medium Enterprises.
Aneemesh Saxena, former president of FISME, echoes Bhardwaj's view.
"The cost of making this transition is enormous. It includes replacing the majority of the machines, training personnel, certifications, and Global Organic Textile Standard (GOTS) for organic growth, among other measures," he said.
According to these players, a major hurdle is a transition from coal to a sustainable source of energy.
"The immediate and best alternative could be natural gas, which was used by the West to transition from coal.
"In India, natural gas can be supplemented by renewable forms of energy, all of which would be significantly more expensive than coal," said Shoubhik Dasgupta, partner, Pioneer Legal.
While PNG or gas may be a suitable alternative, the ground reality paints a different picture altogether.
According to Chhabra, in NCR, the pipelines don't even cover 50 per cent of MSMEs.
"The time taken to provide a connection is three-six months.
"The number of total connections, across India, does not cover even 10 per cent of MSMEs and the speed of providing the connectivity is painfully slow.
"Every industry has to spend a lot to get gas connections and gensets," he said.
"In Delhi-NCR, the authorities have banned the use of fossil fuel and mandated conversion into PNG for boilers and DG sets.
"PNG gas connection, conversion of equipment, and replacing diesel gensets demand a huge cost outlay. MSMEs cannot afford this with their own resources," said Saxena.
"Transition to renewable energy (wind or water) may push industries to shift their bases to coastal areas to harness the abundance of water and wind in those areas.
"It would mean industries may start moving out of the mainland at some point," said an industry insider.
Industry players also say that customers have not bought into the idea of sustainability mainly because of the cost involved. Rakesh Chhabra, president of Sonipat-based Rai Industries Association, said people still opt for cheaper alternatives despite greener options.
"In India, mass adoption of any new environment-friendly product is driven by cost sensibilities.
"However, in certain segments like electric vehicles (EVs), we are seeing an increasing number of people paying more and wearing an eco-friendly badge of honour," added Dasgupta.
The government, in the Budget session of Parliament this month, said that over 6 per cent of India's operational industries (4,40,989) currently comply with one or the other environmental standards.
According to a compilation presented in Parliament, Punjab tops the list of polluting industries (6,293), followed by Gujarat (4,605), Rajasthan (3,796), Maharashtra (3,043), and Jharkhand (1,760).
But a number of small firms rue the lack of a clear road-map from either the central or state government.
"Diesel gensets, which are used for power generation in every factory, have to be phased out from May 15.
"The assurance of uninterrupted power supply is based on a letter by CAQM (Commission for Air Quality Management) to state-backed power companies.
"Because of the inefficiency of these firms, export orders aren't delivered on time.
"The government must ensure that MSMEs get gas connections before May 15, and also make power companies more accountable," said Chhabra.
According to Bhardwaj, the country needs a comprehensive energy vision, especially for small industries.
"Many initiatives are underway but most are ad hoc and not following a national footprint.
"So you have courts and authorities banning diesel generators in one state, dictating the use of PNG in another, and prescribing zero-emission generators in the third."
He added: "We have a disconnect between international commitments and our levels of preparedness.
"At present, all the players involved (governments, regulators, environmentalists, industries, and international organisations) lack synchronisation.
"The cost of the confusion will ultimately be borne by the industries."
Source: Read Full Article