$3000 for a thermos: Why dead company merch can be worth top dollar
Save articles for later
Add articles to your saved list and come back to them any time.
Corporate merchandise is everywhere, from coffee mugs to shirts and pens. Owning a Google hat or t-shirt isn't especially cool – anyone can get their hands on one.
You know what is cool though? Having an original piece of swag from the infamous FYRE festival. Or Lehman Bros. Or Silicon Valley Bank.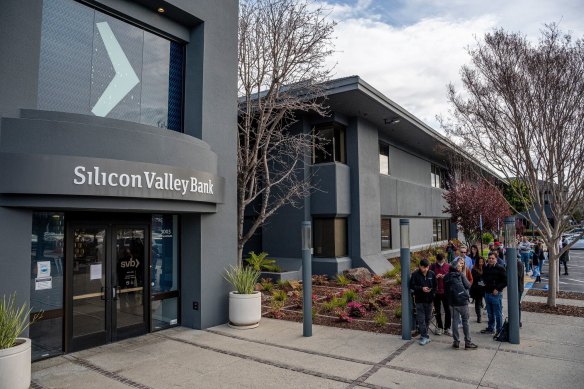 When a company folds, branded items become even more exclusive, and part of a larger joke within society.Credit: Bloomberg
When a company folds, branded items become even more exclusive, and part of a larger joke within society. As it turns out, there is a substantial market for this defunct company merchandise.
So let's channel our inner vultures, pick at the carcasses of failed companies, and see what we find.
Silicon Valley Bank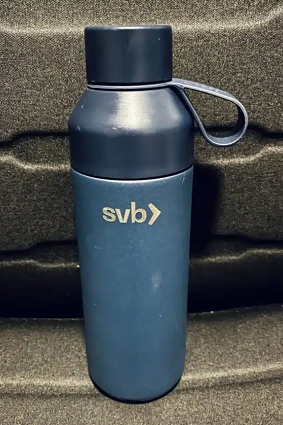 The "authentic legendary" SVB thermos bottle.Credit: eBay user authenticio
The bank's collapse in March sent shockwaves around the finance industry. But when it failed, savvy amateur investors were already thinking a few moves ahead.
Less than a week after the collapse, throw blankets emblazoned with the SVB logo were getting bids of $US1000 ($1500) and up, while SVB-branded cheese boards had an asking price of between $US150 and $US250.
But perhaps my favourite is the "authentic legendary" SVB thermos bottle. While it's seen better days, with scratches along the outside and a logo that's fading from white to a sickly grey, it can be yours for the modest price of $US2999.
Lehman Brothers
At $US211 billion, SVB is the second-largest bank failure in US history. But the largest bankruptcy belongs to Lehman Brothers, whose $US600 billion collapse triggered the 2008 global financial crisis.
Lehman's 14-year liquidation – it was only finalised last year – yielded plenty of swag that's still around today.
One eBay seller in particular hoarded Lehman Bros items back in 2008, thinking they might come into vogue down the track.
Well, he was right. Today he sells all sorts of Lehman merch, including a set of six Lehman gift bags featuring a "bonus item" for $US15, a $US69 sports visor, and a canvas wheeled duffel bag that goes for $US300.
Fyre Festival
A Fyre Festival sweatshirt auctioned by the United States Marshals Service.Credit: United States Marshals Service
Fyre Festival is one of the most ridiculous events ever conceived. Festival attendees were promised a high-class event complete with luxurious villas. In reality, they were shoved into tents and fed comically plain sandwiches.
In 2020, the Feds seized and auctioned off Fyre Festival merchandise to help repay some of the $US26 million owed to island labourers and other victims.
A total of 126 items were put up for auction, and collectors were drawn to the opportunity like moths to a flame. FYRE hats sold for about $US500 each. The most expensive piece of clothing was a white, blue and yellow sweatshirt that reached $US800.
But no doubt, the best swag on offer was the wristbands and coins (complete with velvet box) sporting the Fyre Festival's slogan: "A conspiracy to change the entertainment world".
But what about "alive" company swag? Companies don't have to die for their swag to be valuable. A company rebrand can have the same effect.
Apple is a perfect example. Remember their retro rainbow logo straight out of the '80s?
Getting your hands on one is now an expensive task. Limited edition retro Apple shirts are easily worth more than $US400. Even Apple merch from the '90s – with the same logo they have today – can be worth more than $US100.
And just a few months ago Twitter auctioned off a bunch of office supplies and branded assets. The haul included a giant neon sign of the Twitter logo which sold for $US22,500. Or, you could say goodbye to $US10,000 for a Twitter-branded pizza oven.
Typically, you have to wait for a company to go bankrupt to buy such authentic memorabilia. You can occasionally get lucky with "alive" company merch too – it's just not as consistently valuable.
So where's the best place to find company merch? Your best bet is to work at the company in the first place. Corporate gifts feel like useless clutter, but over my career, I've tried to hang onto at least one item from each place I've worked.
eBay is your next port of call. You can find company merch on there within hours of the business going bust. But you also have to be careful, as eBay's marketplace is littered with knock-offs – and while some listings are just satirical, others are actually trying to scam you.
If you really want to collect this stuff, just ask around. Family, friends, jump on Twitter, seek out Facebook groups. Some people have so much merch that they just want to get rid of it.
But is it worth investing in dead company swag in a serious manner? I'm not convinced. Some items out there are really cool, but the problem is that once an old logo gets trendy, marketplaces get overrun by copycats.
Authenticity is the difference between a rare $US400 SVB shirt, and one you can find for two bucks at a street vendor. Scouring marketplaces is like sifting through a minefield of fake goods – and there's no official merchandise licensing body to verify your item's authenticity.
There's also a certain element of schadenfreude embedded in the world of defunct company swag. It's easy to point and laugh at high-profile failures like Theranos or FTX, but these collapses affect innocent people.
Branding has become so detached from the people behind it that it's hard to feel sorry for Twitter losing hundreds of millions, or Silicon Valley Bank going under. A decade later, ex-Lehman employees probably don't mind someone wearing their old company's merch. But picking the corpse of SVB while it's still warm feels a bit weird.
Defunct company swag can stay relevant for decades, but it's not really a serious investment. It's mostly for wearing and flaunting ironically.
Ultimately, you should treat swag like other collectibles. Buy it for the right reasons. Joy, appreciation, nostalgia, design, cool factor, bragging rights. If it goes up in value, great. If not? Doesn't matter. Happy collecting!
Advice given in this article is general in nature and is not intended to influence readers' decisions about investing or financial products. They should always seek their own professional advice that takes into account their own personal circumstances before making any financial decisions.
Stefan Von Imhof is the co-founder of alternative investing community fund Alts. His favourite alternative investments are vacation rentals, cashflowing websites and, especially, vinyl records.
Most Viewed in Money
From our partners
Source: Read Full Article