Rare earth reprieve: Last-minute extension for Lynas in Malaysia
Save articles for later
Add articles to your saved list and come back to them any time.
Critical minerals miner Lynas Rare Earths has gained a six-month reprieve to continue operating its billion-dollar processing plant in Malaysia, giving it a crucial lifeline while it races to commission another processing facility in Australia.
The miner said its license to import and process lanthanide concentrate – various elements that together are known as rare-earth metals – at its Malaysian plant, which was set to expire at the beginning of July, has been extended and allowed its cracking and leaching operation to continue until January next year.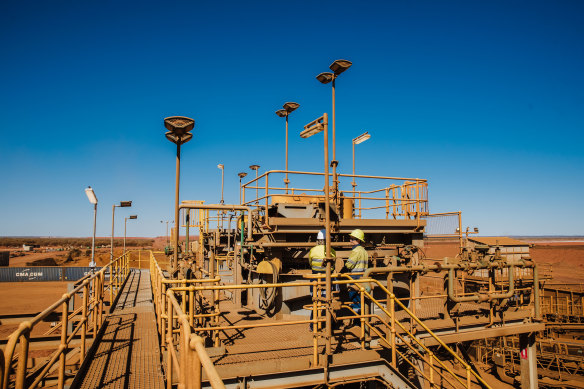 Lynas' alternative plant at Kalgoorlie in Western Australia is yet to be completed.
Investors welcomed the news, sending Lynas shares up over 10 per cent.
Lynas is racing to build and commission alternative production facilities in the West Australian gold mining town of Kalgoorlie after Malaysian authorities tightened restrictions on its licence.
The company has been dogged by mounting local opposition and political wrangling in Malaysia over its activities because of the environmental harm from the low level radioactive waste, a by-product of the ore processing, it generates.
A decision to keep the July deadline and not vary its licence by Malaysian authorities would have crippled Lynas' immediate output at a time when demand for rare earths is soaring thanks to a boom in critical minerals as the globe rushes to decarbonise.
As recently as last week, Lynas was telling investors at the Macquarie Bank conference in Sydney that if its appeals to the Malaysian science minister were unsuccessful, it would be forced to stop importing and processing lanthanide at its Malaysian plant and effectively shut down its operation there from July.
Lynas had filed two appeals under Malaysia's Atomic Energy Act to the country's science technology and innovation minister requesting the government remove the conditions which limit the operation of its facility. Lynas says the conditions represent a significant variation from the original agreement under which the miner made an initial decision to invest in Malaysia.
The Malaysian minister dismissed the appeals but allowed a six-month licence variation.
Malaysia has legal avenues for the review of the licence conditions under which Lynas has operated in the country since 2012, which the company said it would seek to take advantage of.
Lynas' processing plant in Malaysia.
"Lynas has made significant investments in its Malaysian facility and will seek review through these processes in respect of the conditions to ensure that Lynas is treated fairly and equitably as a foreign direct investor and as a significant employer and contributor to the Malaysian economy," the company said in an ASX statement.
In its quarterly results released last month, Lynas said its production from the Malaysian plant hit a record 1725 tonnes. Its Mount Weld mine produced sufficient concentrate to feed its Malaysian operation and enough extra to set aside to be ready to feed the new Kalgoorlie plant.
The Kalgoorlie operation is in the final throes of major construction and is on track to start processing concentrate in bulk sometime in the last quarter of this year. The mixed rare earth carbonate produced in Kalgoorlie will be further processed in Malaysia, a process expected to start in August.
"Commissioning and ramp up of a plant of the nature of the Kalgoorlie rare earth processing facility remains inherently unpredictable, and as a result, we are planning for either a complete shutdown or very low production at Lynas Malaysia for at least up to three months," Lynas' quarterly statement said.
The six-month reprieve may help avert that scenario.
The Business Briefing newsletter delivers major stories, exclusive coverage and expert opinion. Sign up to get it every weekday morning.
Most Viewed in Business
From our partners
Source: Read Full Article