AustralianSuper to refund $70 million after overcharging 100,000 people
Save articles for later
Add articles to your saved list and come back to them any time.
The country's largest super fund, AustralianSuper, will pay about $70 million in refunds to around 100,000 people after finding members with multiple accounts had been overcharged.
The superannuation giant on Friday revealed the results of a review of how it dealt with customers who had more than one account – it said it regularly sought to identify and combine accounts to save members' fees.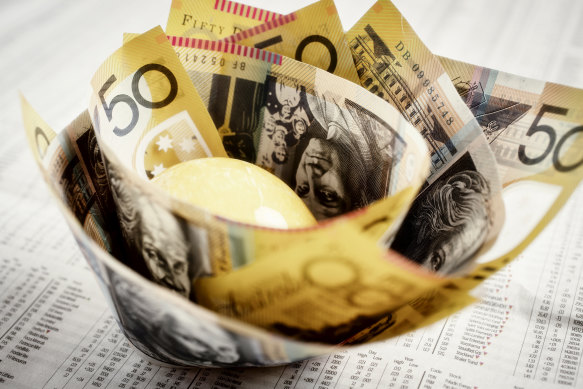 AustralianSuper said it would pay average compensation of $650 per affected member.Credit: Louie Douvis
However, the review found that its processes did not detect all the cases where customers had more than one account, which meant members were overcharged for administration fees and insurance costs.
"This should not have happened, and we apologise unreservedly to members. The fund is taking appropriate remediation actions and has self-reported the issue to the regulators," it said in a statement on Friday.
The super fund said about 100,000 people were affected, and it expected to pay an average compensation of $650 per affected member.
"AustralianSuper's aim is to return these members to the financial position they would be in now if this hadn't occurred," the super fund said.
The compensation will also cover lost earnings on the amounts incorrectly taken from members' accounts.
AustralianSuper said it would not need to increase fees to cover the compensation because the amount would be paid from its financial reserve for operational risk.
The fund, which manages almost $2.9 billion and has 3.1 million members, said it had also improved its processes for managing multiple accounts held by the same member.
Regulators in recent years have been pushing the superannuation sector to improve member returns, and a 2018 Productivity Commission review estimated about 10 million accounts were unintended multiple accounts that were being eroded by fees.
Meanwhile, figures published this week by SuperRatings suggested that on average, super funds were on track to make returns marginally ahead of inflation this financial year, which would fall short of most funds' objectives. It said the median balanced fund had made 1.2 per cent in April, helped by sharemarket returns.
Executive director of SuperRatings Kirby Rappell said high inflation was a challenge for super funds, even though it so far had been a stronger financial year than last year.
"The strong financial year-to-date return will be welcome news for members after last year's losses as well as some bumpy months at the start of this financial year," Rapell said.
"Put simply, super funds are on track to return around 8 per cent thus far this financial year, despite this also being behind an objective of inflation plus 3 per cent," he said.
The Business Briefing newsletter delivers major stories, exclusive coverage and expert opinion. Sign up to get it every weekday morning.
Most Viewed in Business
From our partners
Source: Read Full Article