How to put your credit card debt on ice
Save articles for later
Add articles to your saved list and come back to them any time.
Are you still managing to clear your credit card in full each month? To zero it out ready to start fresh, thus paying zero interest? If you are, you're one of the lucky ones: hundreds of thousands of Aussies aren't.
New credit card data from the Reserve Bank gives us a snapshot of how things are looking 10 interest rate rises in – not to mention the two further hikes since then.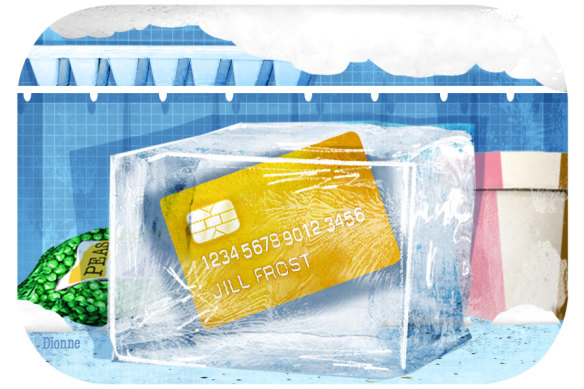 Rather than paying an outrageous 18 per cent interest on your credit card, it could instead be on 'ice'. Credit: Dionne Gain
We now know some people are both reaching for the plastic and failing to deal with the expensive aftermath, with the number of new purchases on credit cards rising 7.37 per cent in the year to April, while the total spend rose 8.62 per cent.
When our economy was shut down and we were in lockdowns, outstanding credit card balances shrank by $10 billion – it was a trend that saw us close our accounts too. But today, there is the highest number of credit card accounts since April 2021.
And in the year to April, collective balances around the country crept back up by $436 million. A total $17.76 billion, the most since August 2021, are now accruing interest at an outrageous 18 per cent.
It could instead be on 'ice'. By which I mean, parked at 0 per cent.
There are dozens of credit card companies that will take on your existing debt at no interest for up to almost three years.
So-called balance transfer credit cards sometimes charge you no interest for a set period of time and could be the perfect strategy if you have an accrued debt but have little leeway to pay it down right now.
(Just first give some thought to whether you are still solvent enough to get approved. The bar is set a lot lower to qualify for a credit card than for a home loan, but avoid being refused either if you can. Otherwise, your credit score will suffer.)
There are dozens of credit card companies that will take on your existing debt at no interest for up to almost three years.
Data house Canstar says the longest interest-free period is the 34 months on Bankwest's Zero Mastercard and Zero Platinum Mastercard – just watch and calculate the impact of a 2 per cent 'balance transfer' fee.
Next comes the St. George Bank, Bank of Melbourne and BankSA Vertigo Visa, which compares with 32 months and a 1 per cent balance transfer fee. You can get 32 months with no transfer fee from NAB's Low-Rate Card.
The Bankwest products carry no annual fee, the Vertigo Visa, $55 and the NAB card, $59 waived in the first year, which may well have you asking: what's in this for the providers of 0 per cent cards?
The answer is that despite their interest-free status, card companies hope you slip up and use these products in a way that means they will earn interest.
Nicole Pedersen-McKinnon says there are ways to freeze your credit card payments.
So you need to play and pay smartly. There are just two strategic mistakes to avoid:
Mistake one – spend on the new balance transfer card. You won't get interest-free days – you carry over a balance, so don't – and the interest rate on purchases won't be great. For example, Bankwest's purchase rate is 14.99 per cent.
Mistake two – keep the card if you still have outstanding debt at the end of the interest-free period. What is called the revert rate will be eye-watering. While Bankwest's is again 14.99 per cent, the others are above 21 per cent. To 'win' at that point, if need be, you can transfer your balance again and reset the strategy.
That minimum repayments on credit cards are set ludicrously low at often 2 per cent of your balance is why you can essentially put your debt on ice, knowing it won't grow, for nearly three years.
What's the alternative if you keep debt on a regular, existing card? Here's a personal example.
As I have written here before, I flush everything I can through my credit card both to earn frequent flyer points and to leave my salary sitting in the offset account alongside my new mortgage for the month, so I save a sweet slice of loan interest.
The strategy backfires if I fail to clear my balance in any given month and therefore pay the extortionate (but irrelevant) 19.74 per cent interest. So I don't.
But how much you would hand over in interest if you suddenly switched to making only minimum repayments is heartbreaking.
Take my month of May. At the end of the statement period, I had $3180.34 owing. The mandatory, meant-to-scare-you calculations at the bottom of my statement show a minimum repayment of $64 a month, meaning I'd be debt-free – and very possibly dead! – in 52 years. And I would end up paying $12,963 on my original $3180. Quadruple.
If times are now so tight you can no longer discharge or even pay down a credit card debt, apply for a 0 per cent balance transfer and see if you can instead 'park it' – for almost three years, for free.
Nicole Pedersen-McKinnon is the author of How to Get Mortgage-Free Like Me. Follow Nicole on Facebook, Twitter or Instagram.
Advice given in this article is general in nature and is not intended to influence readers' decisions about investing or financial products. They should always seek their own professional advice that takes into account their own personal circumstances before making any financial decisions.
Most Viewed in Money
From our partners
Source: Read Full Article