IndiGo has flexibility to decide 2035 size, says CEO Pieter Elbers
IndiGo has the flexibility to decide what would be the precise size of its aircraft fleet by 2035, its chief executive officer (CEO) Pieter Elbers said on Monday.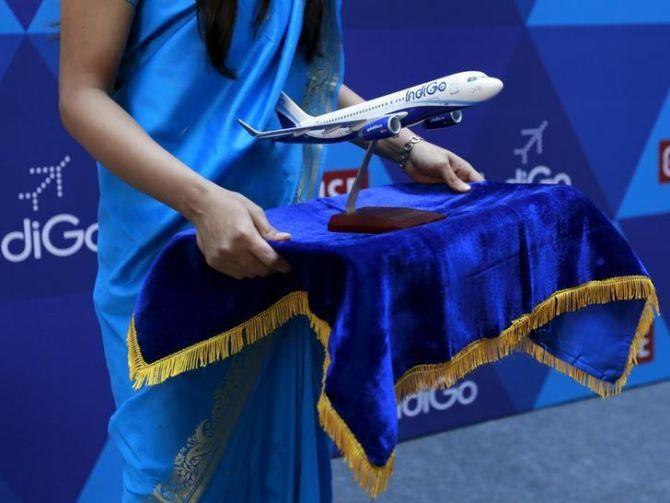 IndiGo — the country's largest airline — has 312 aircraft in its fleet.
Elbers said the airline will double in size by 2030, indicating the airline will have a fleet of about 625 by 2030.
"We are expecting to double in size by 2030. We have ordered another 500 aircraft now.
"We have the flexibility on what would be the precise magnitude and size of the company by 2035," he told reporters during a late night press conference on the sidelines of the Paris Air Show.
The airline on Monday placed the world's largest aircraft order: 500 A320 family planes, including A320neo, A321neo and A321XLR.
These will be delivered between 2030 and 2035.
"IndiGo has a track record of placing timely orders for planes.
"As we are approaching 2030, we still have plenty of time and flexibility to optimise what is going to be the precise mixture of A320s and A321s and possibly XLRs," Elbers stated.
From its previous orders with Airbus, the airline will receive deliveries of 480 aircraft till 2030.
However, a certain section of its active fleet at that time will be sent back because of old age.
Ultimately, by 2029-end, its fleet size will be about 625.
According to Monday's order, the airline will receive 500 new planes between 2030 and 2035.
However, it is not clear how many planes will be sent back due to old age between 2030 and 2035.
When asked when IndiGo would place its first order for wide-bodied aircraft, Elbers said, "We have just placed a historic order, the largest ever placed by any airline in the world.
"So, please allow us to enjoy this moment of joy and excitement.
"From tomorrow onwards, you can ask me any question on wide-bodied aircraft."
He mentioned that this order secures the supply pipeline of IndiGo for the next 10 years.
"Aviation is a more long-term business than any other.
"This will allow us in the long term planning of the flight network," he added.
IndiGo operates 13,039 flights a week, about 13.3 per cent more than a year ago, according to aviation analytics firm Cirium.
"The fact is that today, IndiGo has a steady flow of aircraft coming in and today, we have all the challenges related to supply chain and delays and so on.
"Despite that, IndiGo has a steady flow of aircraft coming in.
"So, what we are doing here is that we are securing our future and by placing this order, we now have a planning horizon of over 10 years," the IndiGo CEO noted.
IndiGo has 312 planes — 20 A320, 164 A320neo, 2 A321, 85 A321neo 39 ATR-72 and 2 B777-300 — in its fleet as on June 1, according to Cirium.
The two Boeing B777-300 have been leased from Turkish Airlines.
Source: Read Full Article