NAB says households resilient despite rate rises and high inflation
Save articles for later
Add articles to your saved list and come back to them any time.
National Australia Bank says the strong labour market is shielding mortgage customers from the full effect of rapid interest rate rises, after it contacted more than half a million customers and found only 14 of them needed financial support.
As banks brace for a rise in customers struggling with higher repayments, group executive for personal banking Rachel Slade said households with mortgages were yet to feel the full impact of interest rate rises, and many still had high balances in their offset and saving accounts.
The Reserve Bank has jacked up official interest rates from 0.1 per cent to 4.1 per cent since May last year in response to surging inflation, sparking predictions banks will face higher bad debts in their mortgage and small business portfolios.
Slade said the bank had reached out to 570,000 customers – or about 10 per cent of its total customer base – and found that only 14 home loan holders needed a referral to its financial hardship support service. Other banks have also been checking in with their customers as the economy has weakened, including ANZ, which has contacted about 360,000 home loan customers in the past 18 months.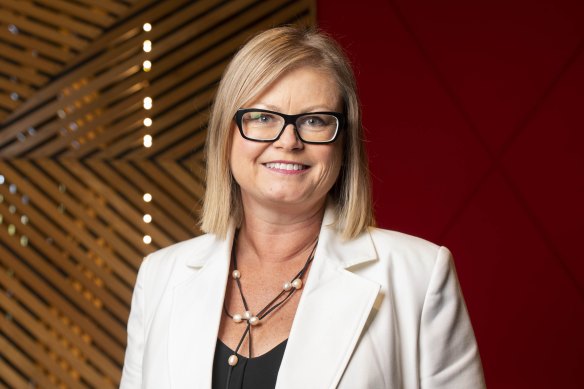 Head of personal banking at NAB, Rachel Slade, said the bank was yet to see a spike in customers in financial hardship.Credit: Arsineh Houspian
In an interview, Slade said households were unlikely to feel the full extent of interest rates, which the bank expects to be lifted at least another two times this year – until March or April next year. She also underlined the strength of the labour market and said more people were cutting back on non-essential spending, with about half changing their spending habits.
"Households are definitely feeling rising interest rates and high inflation, but they're confident in their ability to hold on to their jobs which is quite different to other cycles this country has been though," Slade said.
"We're not seeing a large number of customers in arrears or getting behind on repayments yet and were not seeing spikes in the number of customers in hardship. I think interest rates still have a while to run through and impact mortgage holders."
Despite the bank's home lending customers being about three and a half years ahead on their repayments, on average, Slade said she expected more customers would need support in coming months.
"We're still seeing very healthy balances in mortgage offset accounts and savings balances are still there, so Australians certainly haven't drained their savings," she said. "We're a long way away from that. But averages often mask the margins, so I fully expect there are customers that are going to need individual support."
Slade said customers who might be at risk included those who had borrowed in the last couple of years while interest rates were at record low, and those who had reasonably high loan-to-value ratios.
However, Slade said Australians were increasingly becoming "considered customers," with about half re-evaluating and prioritising where they were spending to make savings.
A NAB survey of about 2000 people showed that on average, Australians were saving $286 a month by making cutbacks and focusing their spending on the things they valued most.
About 55 per cent cut back spending on eating out at restaurants, saving about $115 a month; half skipped micro treats such as coffees, lunches and trips to the movies, saving between $55 and $60 a month, and about 40 per cent took fewer car journeys to save on petrol, or cut out food delivery services, saving about $60 to $80 a month.
Slade said it was important for the bank to be proactive in reaching out, and for customers to get in touch as early as possible to seek support.
"We're really keen to break down that barrier and make customers feel safe to contact us," Slade said. "More than 90 per cent of customers who speak to NAB Assist early are back on their feet financially within 90 days."
Expert tips on how to save, invest and make the most of your money delivered to your inbox every Sunday. Sign up here for our Real Money newsletter.
Most Viewed in Business
From our partners
Source: Read Full Article