Rio bets on hydrogen to cut aluminium emissions
Save articles for later
Add articles to your saved list and come back to them any time.
Rio Tinto will build a pilot hydrogen processing plant and retrofit its Queensland alumina refinery in a bid to replace natural gas with clean hydrogen to superheat aluminium in the refining process.
Rio, which has secured $32.1 million of taxpayer funding for the project through the federal government's Australian Renewable Energy Agency (ARENA), will work on the project with Japan's industrial conglomerate Sumitomo Corporation.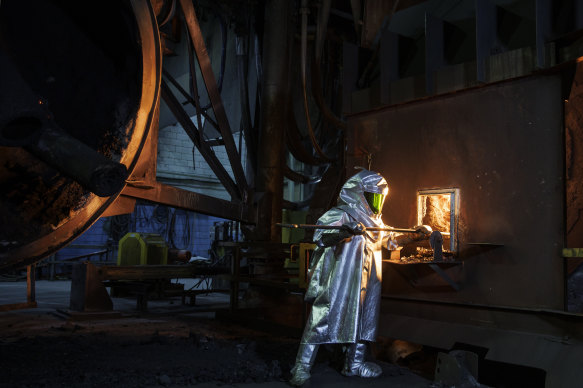 Australia is the world's largest exporter of alumina, the mineral feedstock for aluminium production, with the industry contributing about $7.5 billion to the nation's bottom line.Credit: Bloomberg
The $111.1 million world-first trial is part of the mining giant's ongoing efforts to cut its carbon emissions and meet its net-zero targets.
Aluminium smelting and refining is one of the biggest carbon emitters to fall under the federal government's newly revised safeguard mechanism, a policy that forces the country's 215 highest-polluting industrial sites – including mines, gas plants, oil and aluminium refineries and factories – to cut their carbon footprint by up to about 5 per cent a year until the end of the decade.
Rio's aluminium operations are the primary source of much of its global carbon emissions. The company has committed to achieving net-zero emissions by 2050 and aims to halve its operating emissions by 2030 (from 2018 levels).
Sumitomo will build a hydrogen pilot plant at Rio's Yarwun refinery in Gladstone, and retrofit some of the facility's processing equipment to demonstrate the viability of using hydrogen in the calcination process, where hydrated alumina is heated to temperatures of up to 1000 degrees.
If successful, Rio intends to adopt the technology globally.
Construction of a 2.5 megawatt on-site electrolyser will start next year to supply hydrogen to the refinery and four retrofitted calciners that will begin operating in 2025. Converting the entire refinery to green hydrogen would reduce emissions by 500,000 tonnes a year, equivalent to taking about 109,000 cars off the road, Rio's Pacific operations managing director Armando Torres said.
"We have put the energy transition at the heart of our business strategy, and this is one of the ways we're working towards decarbonising our operations," Torres said.
Diversified mining companies like Rio use huge amounts of energy to extract minerals from the ground and process them for sale, running 24-hour operations with heavy haulage trucks, crushing systems, conveyors, refineries and processing plants. They face enormous challenges to switch their operations from fossil fuel use to non-polluting sources.
The hydrogen produced for the calcination plant will initially be offset with renewable certificates, but Sumitomo – which will own and operate the hydrogen electrolyser – is keen to develop a green hydrogen industry in the region along with Gladstone Ports Corp, Orica, Origin Energy, Australian Gas Networks and Central Queensland University.
Green hydrogen, made by using a renewable-energy-powered electrolyser to split water into hydrogen and oxygen, is seen as a viable alternative to carbon-emitting fossil fuels in heavy transport, heating and power generation, and a variety of other manufacturing processes.
ARENA chief Darren Miller said the technology was a "promising" option for decarbonising one of the country's most emissions-intensive industries.
"If this pilot project is successful, it could be a game changer for Australian alumina production, paving the way for deployment across the industry," he said.
Australia is the world's largest exporter of alumina, the mineral feedstock for aluminium production, with the industry contributing about $7.5 billion to the nation's bottom line. Hydrogen calcination is one of four technologies that could reduce emissions from refineries by up to 98 per cent, Miller said.
The Market Recap newsletter is a wrap of the day's trading. Get it each weekday afternoon.
Most Viewed in Business
From our partners
Source: Read Full Article