Why investors are flocking to this $9bn ethical super fund
Save articles for later
Add articles to your saved list and come back to them any time.
Funds under management at Australian Ethical have soared by almost 50 per during the last financial year to $9.2 billion as the strength of the brand stands out against the regulatory crackdown on some its rivals.
Even allowing for the impact of the company's merger with Christian Super in growing funds under management, there was growth in net inflows of almost $500 million during the year to June 30, 2023.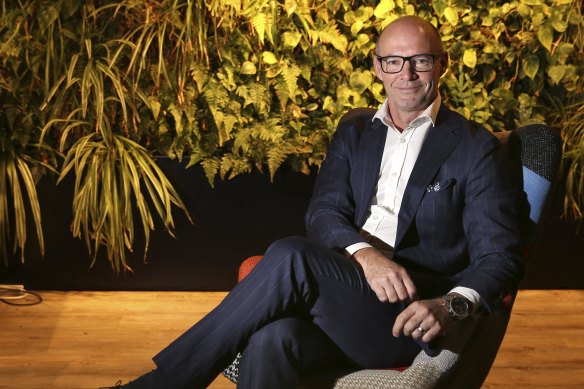 Australian Ethical chief executive John McMurdo. Credit: James Alcock
The Christian Super transfer added about 28,000 super fund members to take the total number of super fund members and "investors", as Australian Super also has managed funds, to more than 127,000.
The increased scale allowed Australian Ethical, the country's largest "pure-play" ethical investor, to pass on fee reductions to all superannuation members, making its super offerings even more competitive.
Ross Piper, chief executive of superannuation at Australian Ethical, says the increasing prevalence of "greenwashing", where green claims cannot be substantiated, highlights the importance of having a strong in-house research capability.
"You do have a whole raft of disclosures and marketing spin that companies put out there in terms of green or social credentials … but you have to be able to look beyond what is [written] on the box," Piper says.
Regulators in Australia and overseas are cracking down on investment managers and companies who engage in greenwashing.
The Australian Securities and Investments Commissions has begun court proceedings against a couple of investment managers over allegations they have engaged in greenwashing.
"We do everything we can to ensure that what we are saying to our consumers is clear and accessible," says Piper, also chair of the Responsible Investment Association Australasia.
"[Asset managers] have a profoundly impactful role to play in contributing to solutions to … the planet's most complex issues," he says.
The ethical manager opened its doors in 1986, and unlike the large industry funds, for example, Australian Ethical's super offerings have not generally been the default option of employers for their employees. That has changed with the transfer of Christian Super and its employers.
Those who invest with Australian Ethical are highly motivated and engaged investors compared to the members of most other superannuation funds.
Early this year, the manager divested its shares in Lendlease and the company's associated investments over concerns about a residential development in south-west Sydney that threatened the habitat of koalas.
Australian Ethical had closely scrutinised the plans for the development and engaged with Lendlease, whose shares are listed on the Australian Securities Exchange, since 2018.
The development approval process for Lendlease's Gilead project is ongoing.
Brendan O'Brien, head of NSW Communities at Lendlease, says the vision for Gilead is that it becomes an exemplar of sustainable urban development and strategic land use for conservation.
"We're committed to having a positive impact on biodiversity and nature, with plans to increase core koala habitat by 70 hectares – 30 per cent more than what's there today," he says.
Australian Ethical's results, released last week, also showed it provisioned $1.1 million during the financial year to the Australian Ethical Foundation, which funds philanthropic endeavours, including the Visionary Grants program.
Each year, 10 per cent of Australian Ethical's profits are allocated to not-for-profit organisations through the Foundation.
Advice given in this article is general in nature and is not intended to influence readers' decisions about investing or financial products. They should always seek their own professional advice that takes into account their own personal circumstances before making any financial decisions.
Expert tips on how to save, invest and make the most of your money delivered to your inbox every Sunday. Sign up here for our Real Money newsletter.
Most Viewed in Money
From our partners
Source: Read Full Article